Services Offered
Counselling is a chance to talk over what is on your mind. I can help you learn new skills and ways of looking at situations so that you will be more capable of solving new problems on your own in the future.
The types of Counselling Services I provide are:
Personal or Individual Counselling: Promotes self understanding and provides an opportunity to learn to make better decisions, improve one's relationships, and generally increase personal effectiveness.
Marriage and Family Counselling: Gives clients an opportunity to be seen individually and then seen together in session.
Parenting Support Groups: Offer opportunites to learn from eachother with guidance from an experienced professional counsellor.
Grief Recovery: The Action Program for Moving Beyond Loss
Grief is the normal and natural reaction to loss, yet most of the knowledge and information we acquire about dealing with loss is not normal, natural, correct, or helpful.
Grief is emotional, not intellectual. Rather than defining stages of grief which could easily confuse a griever, we prefer to help each griever find their own truthful expression of the thoughts and feelings that may be keeping them from participating in their own lives. We all bring different and varying beliefs to the losses that occur in our lives, therefore we will each perceive and feel differently about each loss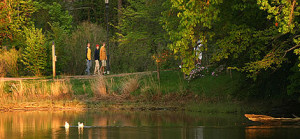 Incorrect ideas about dealing with the emotions caused by the losses in our childhood become the default settings that are applied to the losses that occur throughout our lives.
"Recovery from grief or loss is achieved by a series of small and correct choices made by the griever."
"This book is required reading for all my classes. The more I use this book, the more I believe that unresolved grief is the major underlying issue in most people's lives. It is the only work of its kind that I know of that outlines and problem and provides the solution."
John W. James, Russell P. Friedman, Eric J. Cline
GRIEF RECOVERY WORK IS OFFERED ON AN INDIVIDUAL BASIS OR WITHIN A GROUP SETTING.
Workshops: Are offered on an ongoing basis. These workshops help you to access information to help you better understand Grief Loss and Recovery, Stress Management, Parenting and The process of illness. Here you will find the support of others so that you can be a part of the mainstream of life and develop skills to get back into living your best life.
Stress management services: Include time management and study skills, basic relaxation techniques, helping to identify stressful patterns of thinking and guided imagery.
Caregiver Support: Caregivers are usually alert to the stresses of people they help. They are not, however, always as alert to the stress and fatigue that can slowly surface in their own lives, and need to be reminded of normal stresses that may affect them. If you or someone you know is trying to cope with these stresses, I can help you find the support you need.